Stories of Young and Old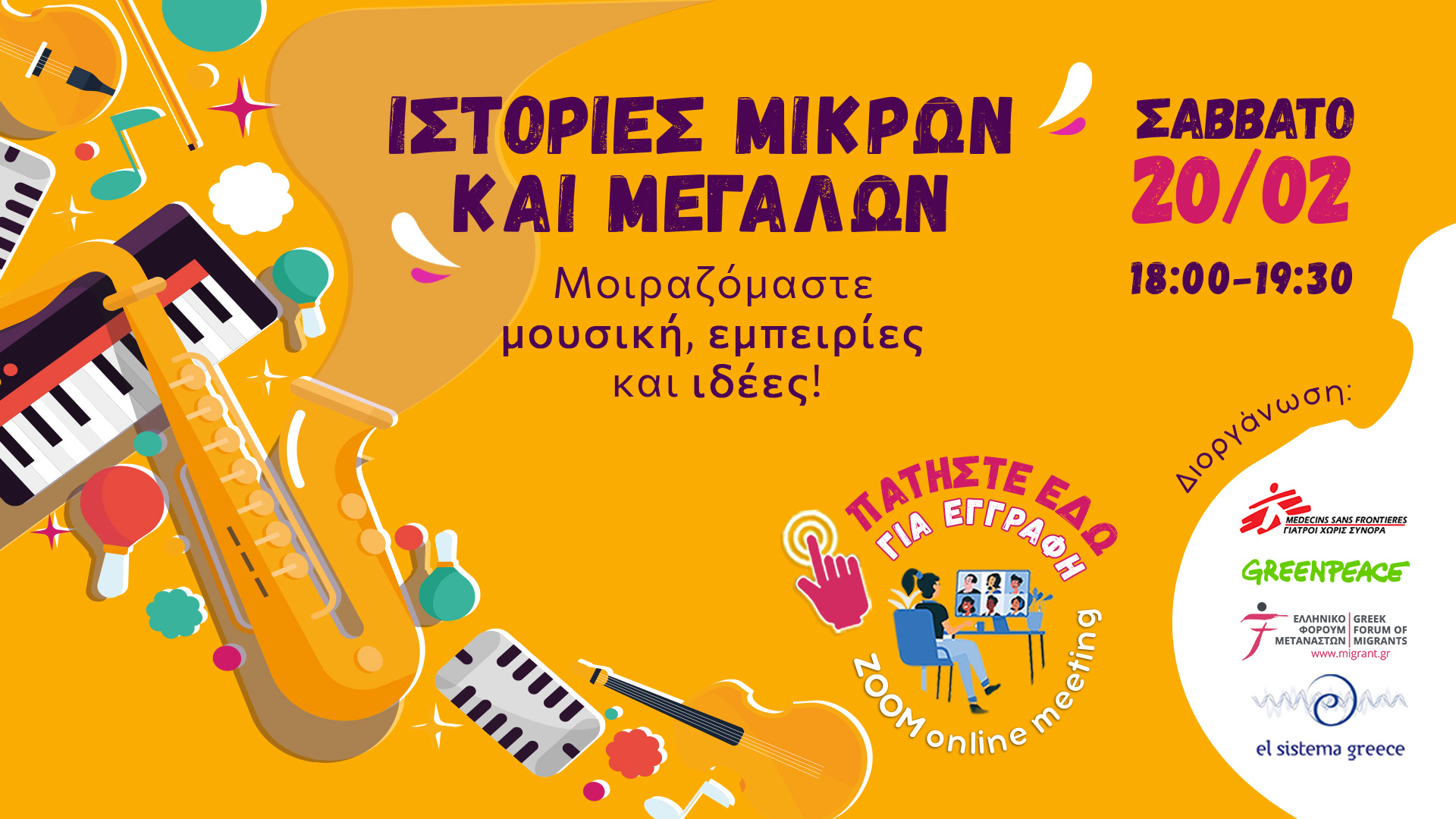 Watch the online chat Stories Young and Old we organized with the MSF Urban Spaces team on February 20, 2021:
We share music, experiences and ideas!
Saturday, February 20, 2020, 6-7.30 p.m.
Five young men and women from the El Sistema Greece social music educational program, representatives of the Young Leaders Program implemented by the organization, meet online and share their musical experiences. The children talk to representatives of the Greek Forum of Migrants, members of migrant communities and cultural groups from Afghanistan, Congo, Nigeria and Syria, about the concept of community, the importance of the arts and the power of music to bring us closer.
The action is a joint effort of the organizations: Medecins sans Frontieres (MSF), Greek Forum of Migrants, El Sistema Greece, Greenpeace and takes place within the MSF Urban Spaces program, an international initiative to mobilize grassroot groups and organizations, launched by MSF and aims to connect citizens from all over the world in solidarity.
Participating in the discussion:
Young Leaders Program - El Sistema Greece El Sistema Greece
Sevasti Matsakidou - El Sistema Greece
Adla Shashati - Greek Forum of Migrants
Michael Afolianio - Nigerian Community / Anasa Cultural Center
Mokhtar Rezai - Afghan Migrant and Refugees Community
Jean Didier Totow - Greek Forum of Refugees / Communaute Congolaise
Maria Irene Sakei - Vana Ba Africa / Ubuntu Drum & Dance Group/ PGGroup
Ayman Slibi - Syrian Home in Greece
Coordination by Vicky Antonopoulou, MSF Urban Spaces Volunteer
The event will take place via the zoom platform.
REGISTER to watch onlines by clicking here: https://us02web.zoom.us/meeting/register/tZMocuugpjouHtBgnswrfERW6j6tiFWX-5NC and you will be sent a confirmation email.