Celebrate together! Multicultural Fest on 17 December 2022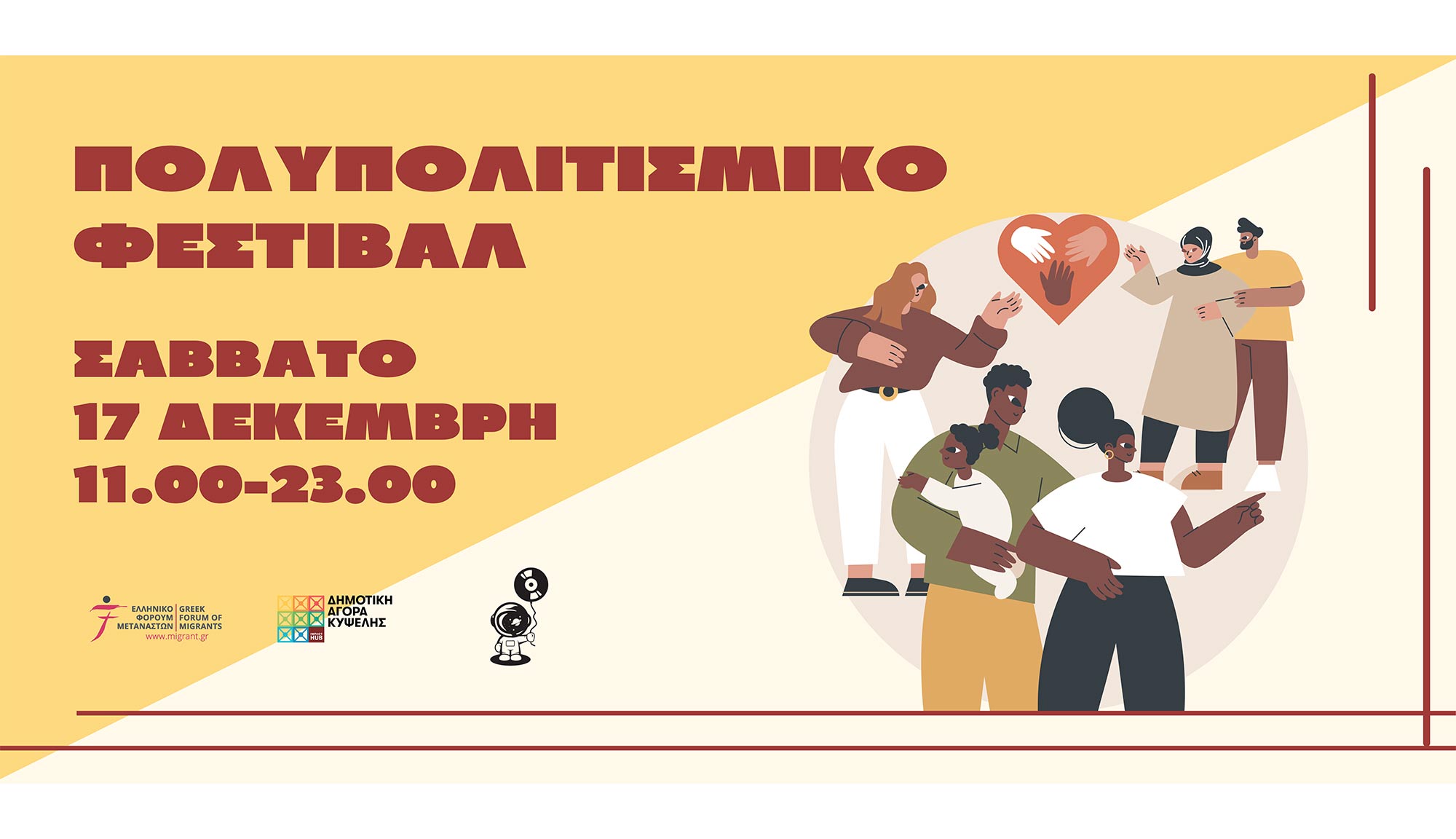 Once again, we celebrate together on the International Migrants Day:
On Saturady December 17th 2022 we celebrate together at
Dimotiki Agora in Kipseli, 11:00 - 23:00
We celebrate together!
For a second year in a row we celebrate together! Due to the International Migrants Day, we the Greek Forum of Migrants along with Impact Hub team in Dimotiki Agora of Kipseli (Fokionos Negri 42, 11361, Athens) we invite you to a multicultural festival:
The programme includes music, food, dance, bazaar and flavors from Ehtiopia, Egypt, Albania, Afghanistanm Georgia, Iran, Ukraine, Senegale, Sudan, Turkey etc., along with conversatios and craft workshops.
All day, from 11:00 until 23:00 youo can choose your christmas gifts handmade by the migrant and refugee communities and organisations: Albania, Egypt, Ethiopia, Afghanistan, Senegale, Ukraine, Georgia, Turkey, Iran, Clicks` Collection, Vana ba Africa, Hidden Goddess and GFM.
At the same time from 11:00 you can enjoy the traditional dance and songs from Afghanistan - Iran, Ukraine, Egypt and Albania.
At noon two important discussions will take place by migrant communities and civil society organisations:
a) "Images of Rights and Violations" at 15:00 coorganised by the Greek department of Amnesty International, Refugee-migrant network. Speakers:
- Anomeriti Antigone,from Generation 2.0
- Karagiannaki/Michaloglou Chara, Amnesty International
- Maina-Kinyoua Nikodimos, GFR
- Ira Londo, Greek Forum of Migrants
b) "Our stories*: Why the migrant communities stories are our concern?" at 16:00 with speakers:
- Sebene Isete, OurStories
- Enri Hysenbelli, GFM
Vervenioti Tasoula, historian
- Vasilis Chronopoulos, law expert