Walk Against Discrimination 2017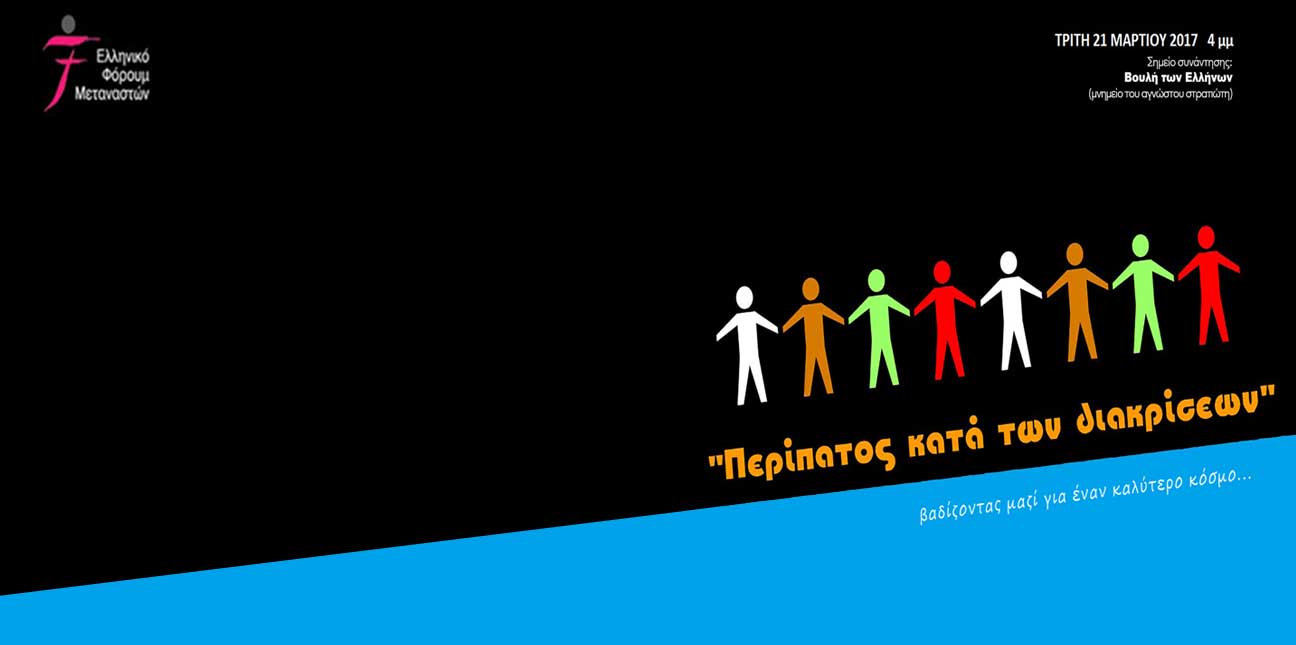 On the International Day against Elimination and Racial Discrimination 21st of March, as every year, GFM along with representatives of various groups confronting racism and discrimination (LGBT, Roma, migrants, HIV positive, refugees, elderly, drug addicts, religion minorities, etc.) assemble, on the 21st of March, for an organized walk against discrimination.
In 2017 the walk started from the Greek Parliament and ended at the Welcommon Centre Accommodation for Refugee in Exarcheia (Kapodistriou 4). We were joined by politicians, journalists, artists, and writers, recognized for their socially consciousness and active dedication to human rights advocacy.
For this event, European networks and organizations UNITED European Network Against Nationalism, racism, fascism and in support of migrants and refugee, ENAR European Network Against Racism, EGAM European Grassroots Antiracist Movement and Open Society Foundations support our initiative.
In 2017 we had the following participants:
Maria Giannakaki, Secretary General of Transparency and Human Rights
Lefteris Papagiannakis, Vice Mayor in the Municipality of Athens, President of the Intergration Council of Migrants of the Municipality of Athens
Maria Stratigaki, Vice Mayor of Social Solidarity and Welfare of the Municipality of Athens
Vasilis Chronopoulos, Deputy Secretary in the Department of Human Rights and Migration Policy PASOK
Pavlos Christidis, Press Officer PASOK
Aggelos Syrigos, Associate Professor of International Law and Foreign Policy at Panteion University, former General Secretary of Population and Social Cohesion
Vasilis Papadopoulos, Lawyer, former GeneralSecretary of Migration Policy
Anastasia Georgiou, Socialist Democrats Movement - Sector Coordinator for Migration and Refugee Policy
George Tsaousis, To Potami- Responsible in the sector of Migration Policy
Rainbow
German Embassy
French Embassy
Civil Society:
1) Greek Forum of Migrants
2) Council of Integration of Athens Municipality
3) Praksis
4) Amnesty International
5) Antigone
6) Life center
7) ARSIS
8) Doctors of the World
9) Positive Voice
10) Greek Forum of Refugees
11) Greek Observatory of Helsinki`s Agreements
12) Refugee School Alef
13) Melissa
14)18 Ano
15) Cosmos of Culture
16) Racist Violence Recording Network
17) ΜΕΤΑdrasi
18) Children`s Reading Club Roma Nomismatokopio
19) Central Board of Jewish Communities in Greece (KISE)
20) National Commission for Human Rights
21) Welcommon
22) Hellenic Center for Disease Control and Prevention (HCDCP)
23) Union of Social Workers Greece
24) Wind of Renewal
25) Nigerian Women organization
26) Greek Transgender Support Association
27) Macedonian Educational and Cultural Movement of Edessa
28) Center for Children and Family
29) Western Thrace Minority University Graduates Association
30) Association of Special Education Special Education Personnel Attica (SEEPEAA)
31) Mercy Corps
32) OLKE - The Lesbian and Gay Community of Greece
33) SCI Hellas
34) Escape to nature
35) Cultural Centre Caucasus
36) Cultural center of African art and culture ANASA
37) Association of Liver patients Greece `Prometheus`
38) Doctors without borders
39) Generation 2.0
40) United African Women
41) Women`s Network of Socialist Democrats Movement
42) Athens Pride
43) Rainbow Families
44) Egyptian Community-Shabab Amstagbal
45) Syrian Home
46) Νetwork of Peer Users of Psychoactive Substances
47) The Mov
48) Co-ordination of African Communities (Ivory Coast, Kenya, Tanzania, Congo, Sudan, Ethiopia, Nigeria, Cameroon, Guinea)
Walk Against Discrimination 2016
Walk Against Discrimination 2015