Third International Soccer Tournament 5 x 5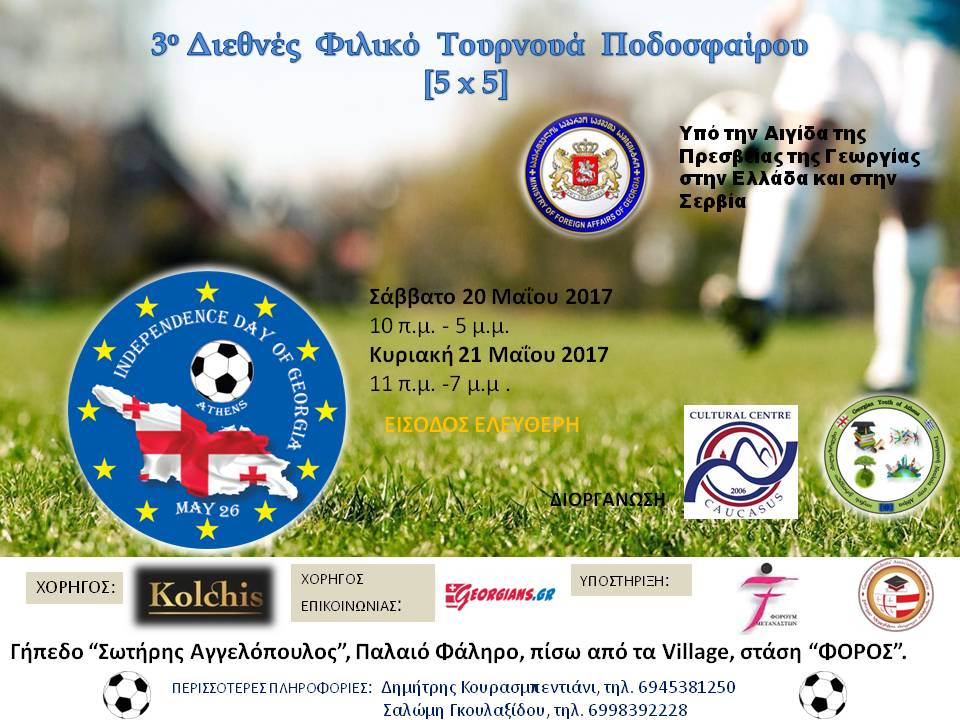 Caucasus Cultural Center and the Georgian Youth Association in Athens are organizing the 3rd International 5x5 Soccer Tournament on Saturday 20th and Sunday 21st May 2017 at Sotiris Angelopoulos Stadium in Paleo Faliro.
The festival is an event dedicated to Georgia`s Independence Day, while it aims to bring together football clubs of migrants, refugees and Greeks living in Athens. For this purpose, Greek, Ukrainian, Polish, Romanian and Albanian teams will participate in the tournament, as well as the Diktio Refugee Group in which students from the ALEF School of the Greek Forum of Migrants will participate.
Before the final match of the event, a cultural program with traditional songs and dances from Georgia will be presented.
Third International Soccer Tournament 5 x 5
Saturday 20 May 2017
10 am. - 5 pm
Sunday 21 May 2017
11 am -7 p.m.
Sotiris Aggelopoulos Stadium, Paleo Faliro, behind the Village cinemas.
For more information:
Dimitris Kouraspentiani, tel. 6945381250
Salomi Goulaxidou, tel. 6998392228