Is Greece ready to challenge discrimination?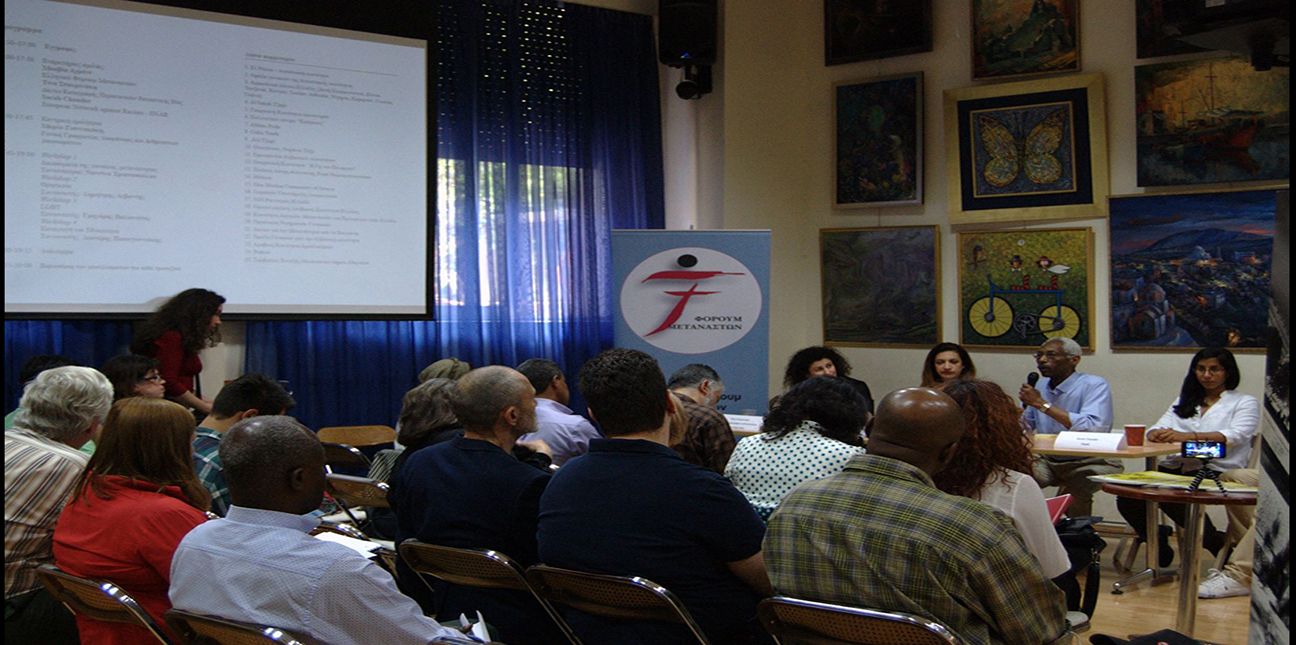 The Greek Forum of Migrants organized the workshop `Is Greece ready to challenge discrimination?` on Wednesday, May 24th. The issues that were discussed concerned the rights of the migrant woman, the discrimination faced by the LGBT community and the discrimination on the grounds of religion, origin and nationality. At the event were presented representatives from 32 organizations and migrant communities.
The success of the event wouldn`t have been possible without them. We want to thank all the participants and especially the speakers for their participation. Specifically, Ms Maria Rossidou from the General Secretariat for Transparency and Human Rights, Ms Tina Stavrinaki from the Network for Recording Racism Violence and Sarah Chander from the European Network Against Racism (ENAR) and the coordinators of the conversations Nadina Christopoulou (Melissa Network), Dimitris Levantis (SOS Racism - Greece), Gregory Vallianatos (GHM) and Lefteris Papagiannakis (SEM). The final conclusions of the discussions will be submitted to the Ministry of Justice, at the Secretary-General for Transparency and Human Rights, Maria Giannakaki.
Special thanks to
1. El Rapta – Egyptian Community
2. Women group of the Egyptian Community
3. African Network in Greece (Ivory Coast, Kenya, Tanzania, Congo, Sudan, Ethiopia, Nigeria, Cameroon, Guinee, Ghana)
4. Al Sahab Mosque
5. Georgian Community `Dioskouria`
6. Caucasus Cultural Center
7. Athens PRIDE
8. Colour Youth, Lgbt youth of Athens
9. Ali Mosque
10. Rainbow Families
11. Federation of Albanian Communities
12. Ukranian Community `Land of the Stork`
13. Roma Children Book Reading Club of Nomismatokopeio
14. Melissa
15. Shia Muslim Community of Greece
16. Greek Transgendered Support Association
17. SOS Racism Greece
18. Homosexual and Lesbian Community
19. Afghan M and R Community in Greece
20. Nigerian Women organization Athens Greece
21. Network for the migrant women from the Balkans
22. Women group from the Albanian Community
23. Arab community of Ambelokipoi
24. Praksis
25. Intergration Council of Migrants of the Municipality of Athens