TACKLING RACISM - FARE Football Weeks 2017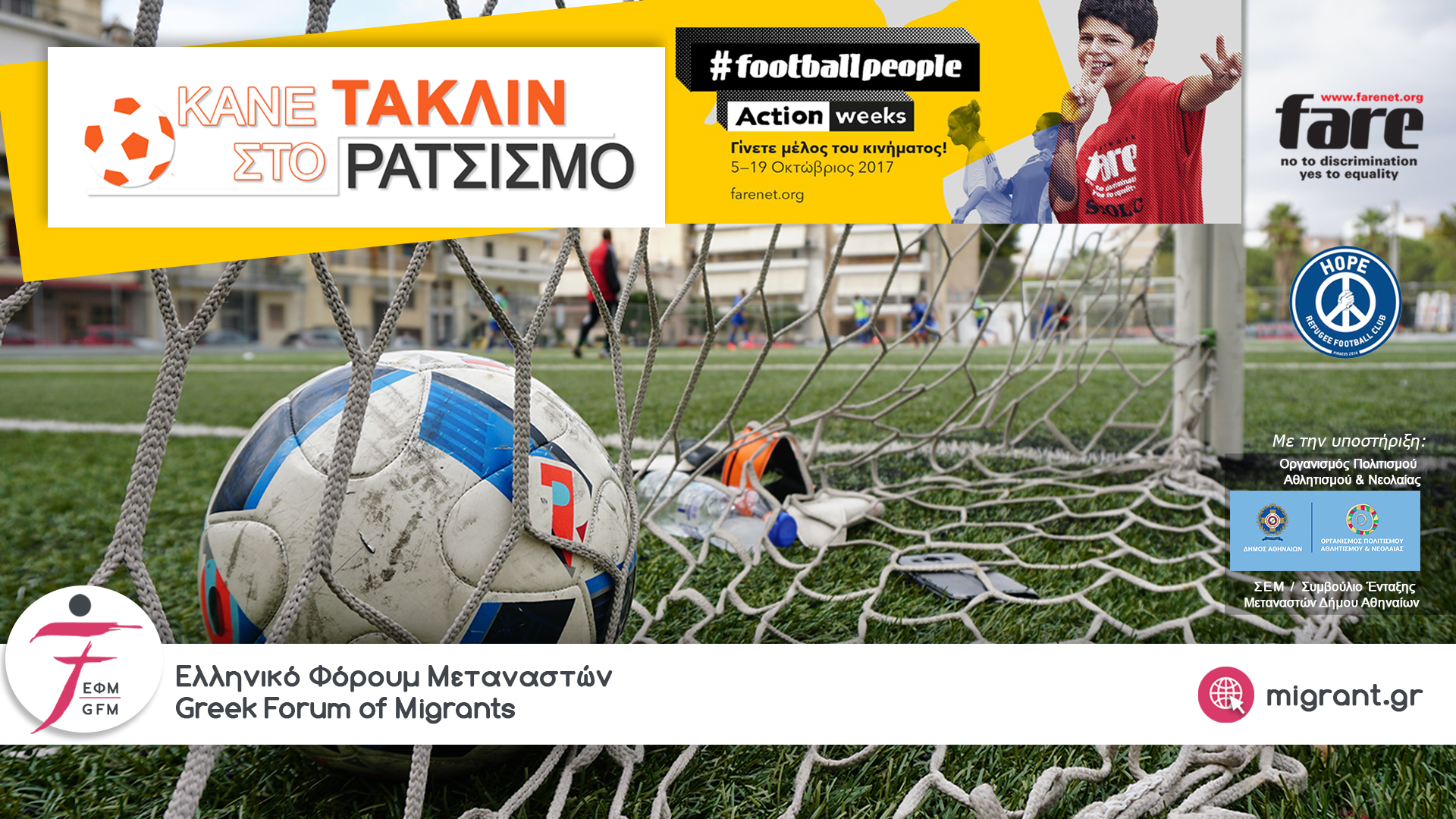 The Action Weeks against discrimination and racism of FARE network in football were launched on 05 October and will last until October 19th.
More than 100,000 people participate with over 2,000 events taking place across Europe. GFM takes part in this action of FARE network, because we are all #footballpeople!
With the participation of Hope Refugee FC-Αθλητική Ελπίδα Προσφύγων, on Friday, 02 October, we started shootings for our TV spot TACKLING RACISM, about fighting racism and discrimination in football. The TV spot will be presented and will released on television and social media in Greece in the Press Conference that will be held on October 19th. The press release of the event follows:
---
PRESS CONFERENCE - TACKLING RACISM
The Greek Forum of Migrants, for the second year, participates in the Action weeks, #footballpeople, against racism in football organized by the FARE network. Tackling racism is the title of the video spot that we created in order to raise awereness and informing the Greek society that diversity is the power of football, the power against racism.
The TV spot, that we created with the participation of Hope Refugee FC-Αθλητική Ελπίδα Προσφύγων`s football players, will be released on TV but also on social media.
Therefore, we invite you to Press Conference on Thursday, October 19th, at 11.00 am, at the `Antonis Tritsis` hall at the Cultural Center of the City of Athens, Akadimias 50, Athens. In this event, you will have the opportunity to see the first screening of the 40`` video and hear the guests` statements about the phenomenon of racism in Greek football.
Participants:
Maria Giannakaki, Secretary-General for Transparency and Human Rights
Lefteris Papayannakis, Vice Mayor and President of Migrants Integration Council of the Municipality of Athens
Anwar Ichbal, Greek Forum of Migrants
Nassos Bratsos, Journalist
Nikos Delagramatikas, Media officer of Hope Refugee FC - Αθλητική Ελπίδα Προσφύγων
The discussion will be coordinated by Kostis Papaioannou, former S.G. of Transparency & Human Rights, former President of the National Commission on Human Rights, Educator.
The event takes place with the support of FARE Network, the Migrants Integration Council and Cultural, Sports and Youth Organization of the Municipality of Athens.
---