A Guide for reporting hate crime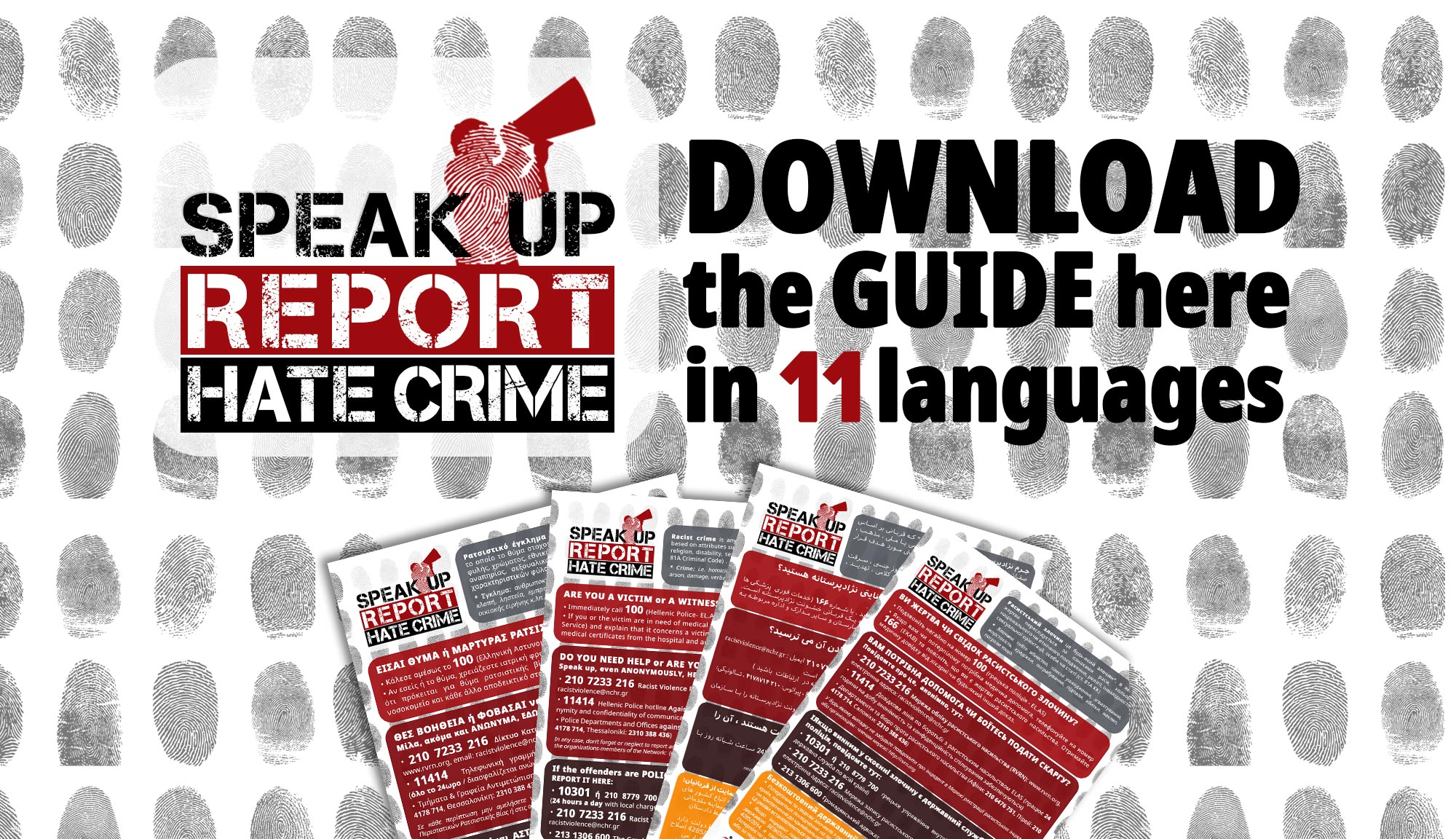 Find below & download for free, a simple Guide on how to report hate & racist crime, published in 11 different languages:
As a follow-up of the informative discussion about Tackling racist violence & hate crime, which was imlemented by the Greek Forum of Migrants and the European Anti-Racism Network ENAR, a simple Guide is published in 11 different languages, showing in simple steps, what to do if you witness or you are a victim of hate crime in Greece:
---
SPEAK UP - REPORT HATE CRIME:
Racist crime is any crime* in which the victim is targeted based on attributes such as race, color, ethnic or national origin, religion, disability, sexual orientation or gender identity (Article 81A Criminal Code).
* Crime: i.e. homicide, injury, rape, sexual assault, theft, robbery, arson, damage, verbal abuse, threat, domestic disturbance etc.
Are you a victim or a witness of a racist crime?
• Immediately call 100 (Hellenic Police- EL.AS.)
• If you or the victim are in need of medical assistance, call 166 (Emergency Medical Service) and explain that it concerns a victim of racist violence. Make sure you acquire medical certificates from the hospital and any other relevant evidence/proof.
Do you need help or are you afraid to report it?
Speak up, even anonymously, here:
• 210 7233 216 Racist Violence Recording Network (RVRN), www.rvrn.org, email: racistviolence@nchr.gr
• 11414 Hellenic Police hotline Αgainst Racist Violence (24 hours a day / ensures anonymity and confidentiality of communication)
• Police Departments and Offices against Racist Violence (Athens: 210 6476 751, Piraeus: 210 4178 714, Thessaloniki: 2310 388 436)
In any case, don't forget or neglect to report and record the incident at the Racist Violence Recording Network or the organizations-members of the Network: (more info here: http://rvrn.org)
If the offenders are police officers or other civil servants, report it here:
• 10301 or 210 8779 700 Department of Internal Affairs of the Hellenic Police (24 hours a day with local charges nationwide)
• 210 7233 216 Racist Violence Recording Network (RVRN), www.rvrn.org, email: racistviolence@nchr.gr
• 213 1306 600 The Greek Ombudsman
FREE court procedure by State: If the incident is reported and filled as a racist crime, the prosecution is carried out by the state and for FREE [...The offences of the law 927/1979 as it was amended from the law 4285/2014, as well as the crimes that are a result of those, are prosecuted by the state's initiative, and the victims are not obligated to pay a fee when filing a lawsuit or for the criminal proceedings as a civil party. ]
Protection of the victims: The victims and witnesses of racially motivated crimes and hate speech (L. 927/1979) that are third country nationals ,are granted a residence permit for humanitarian reasons, if there is a preliminary examination or a criminal charge is filled, until the end of the criminal proceedings. These conditions are defined by the Prosecutor.
This action is organized as part of the programme AGAINST HATE CRIME, TRAINING for MIGRANT and REFUGEE COMMUNITIES supported by the European Anti-Racism Network ENAR.
---
DOWNLOAD the guide in pdf, by choosing a language here: