The Role of Woman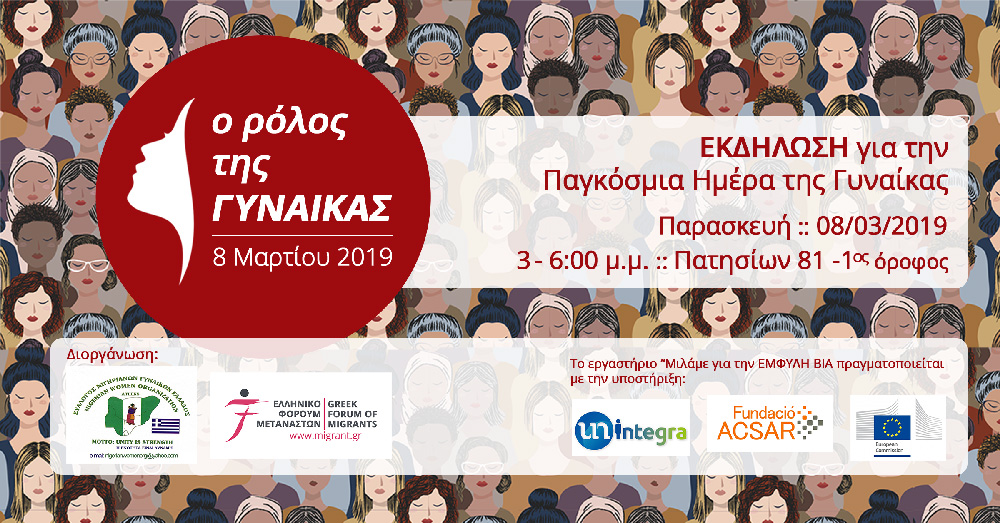 On the International Women`s Day #IWD2019, an event will take place dedicated to the "Role of Woman".
The Greek Forum of Migrants and the Nigerian Women Organization invite you on Friday, March 8, 2019, at 3 pm, at an event dedicated to all Women. The "menu" includes poetry, song, flavours, discussion and a workshop on gender violence. We are waiting for you!
The role of Woman
Event for the International Women`s Day
Friday, 8 March 2019, 3-6 pm
at the Greek Forum of Migrants, Patision 81, 1st floor
Event`s programme:
3-3.15 Attendance
3.15-3.20 Greetings - Women`s Group of Greek Forum of Migrants
3.20- 3.30 The role of women in society.
- Poem by the Nigerian Women Association
3.30- 3.40 Inclusion and racism
- Dina Vardaramatou, President of the Organization Praksis
3.40 -3.45 Song for woman
3.45 -4 Interval
4-4.10 Theatrical activity "The Woman"
4.10-5 Workshop "Let`s talk about Gender-based Violence" from the Women`s group of GFM. The workshop is implemented with the support of UNINTEGRA, Fundacio ACSAR and the European Commission
5-5.30 Flavors from Nigeria
Due to limited seating capacity, please declare your participation by calling at 210-8831620 or by email greekforumofmigrants@gmail.com
Check the FB event here