Multicultural Festival - A fairy tale unites the world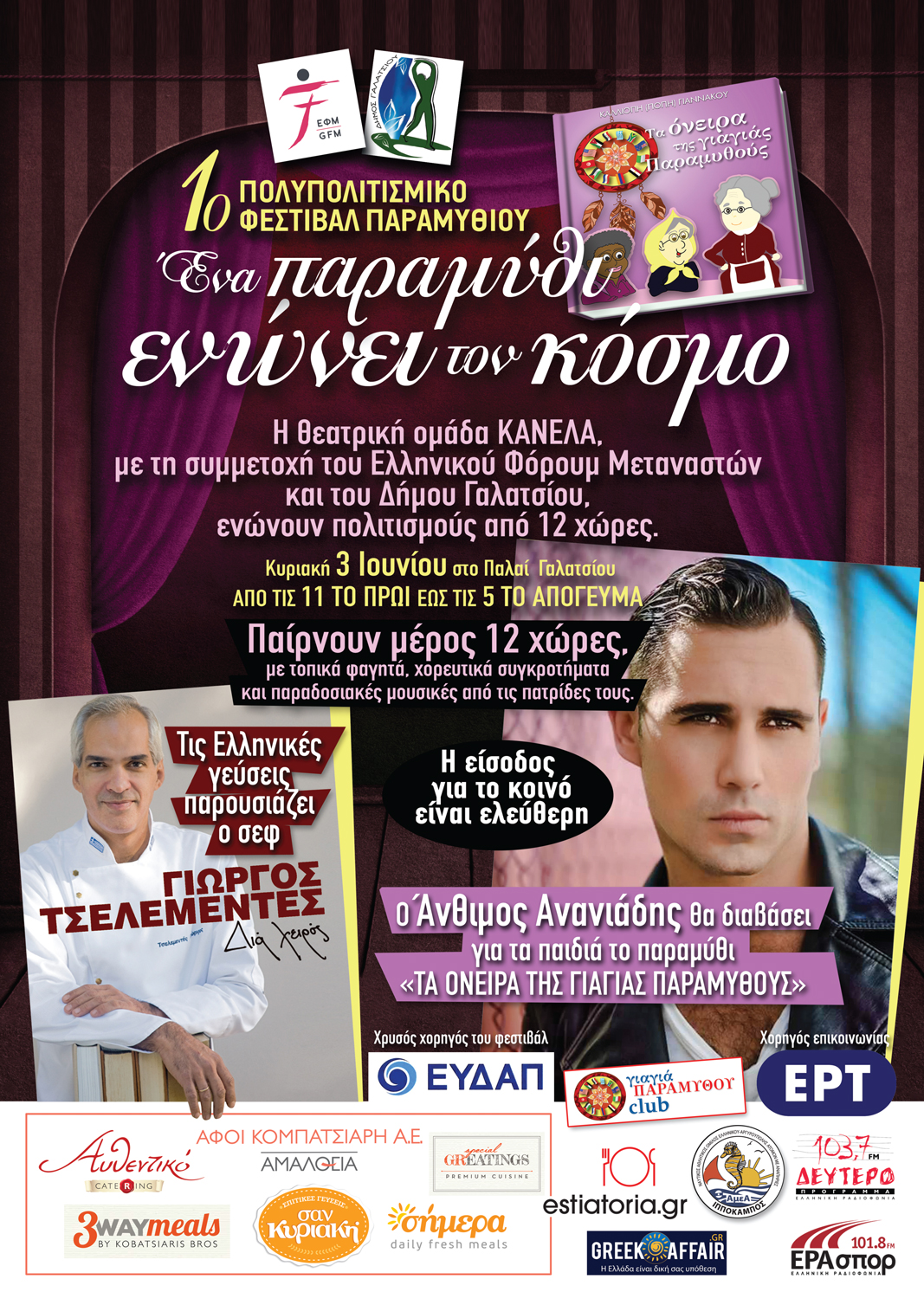 On Sunday 3 June 2018 in Galatsi Stadium, the AMKE Theatrical Group, in collaboration with the Greek Forum of Migrants, along with the support of the Municipality of Galatsi, are organizing and inviting you to the first multicultural festival titled "A fairy tale unites the world".
Time: 11:00 to 5:00 pm
Free entrance
The main concept of the festival, targeting both kids and grown ups, is the interactive and dramatised presenentation of the fairytale "The dreams of grandma that tells fairytales", written by Kalliopi Giannakou, by the famous actor Anthimos Ananiadis. Festival`s presenters will be the journalists Kelly Pavlidou and Krikor Tsakitzian.
This particular fairytale refers to a grandmother`s dream, to stop the existence of children who are hungry or have no drinking water, all over the world. Together with a fairy for assistant, the grandmother makes her dream come true. And then grandmothers from all over the world, join together, and by wearing their cooking aprons from Asia, Africa, Middle East and the West, they start their battle in the kitchens!

Due to the specific topic, representatives of migrant communities from ten countries will prepare and offer to the public traditional flavors from their countries of origin. From Greece, the estiatoria.gr, will participate with the chef George Tselemnede, who is the grandson of the famous Nikos Tselemede.
In the area there will be stands with flavors and souvenirs from their countries:
Greece (Cultural Association of Keratsini, Thymaitadai)
Egypt (Members of the Egyptian Community)
Ethiopia (Cultural Centre "Ethiops"),
Armenia (Cyanide Cross and Hamaskain Cultural Association)
Albania (Federation of Albanian Associations)
Afghanistan (Afghan Migrant and Refugee Comunity in Greece)
Georgia (Cultural Centre "Caucasus")
Cyprus, (Folklor Dancing Club "Enalia Earth", Federation of Cypriot Organizations)
Constantinople-Istanbul, (Tataoulou City School)
Ukraine (Trembita Cultural Community)
Palestine (Union of Palestinian Workers of Athens)
Syria (Syrian House)
At the same time, musical and dance groups, both of the mentioned Communities and of Greece, will present traditional music, songs and dances.
African art cultural center ANASA will participate with games for the children from Africa.
Media sponsors of the festival are the television of ERT along with the radio stations PROTO and ERA SPORT.
Organizer: Krikor Tsakitzian, tel 6973 349039
Communication officers: Eirini & Ioanna Theodorakaki
With the support of Municipality of Galatsi.