INTEGRA FEST 2019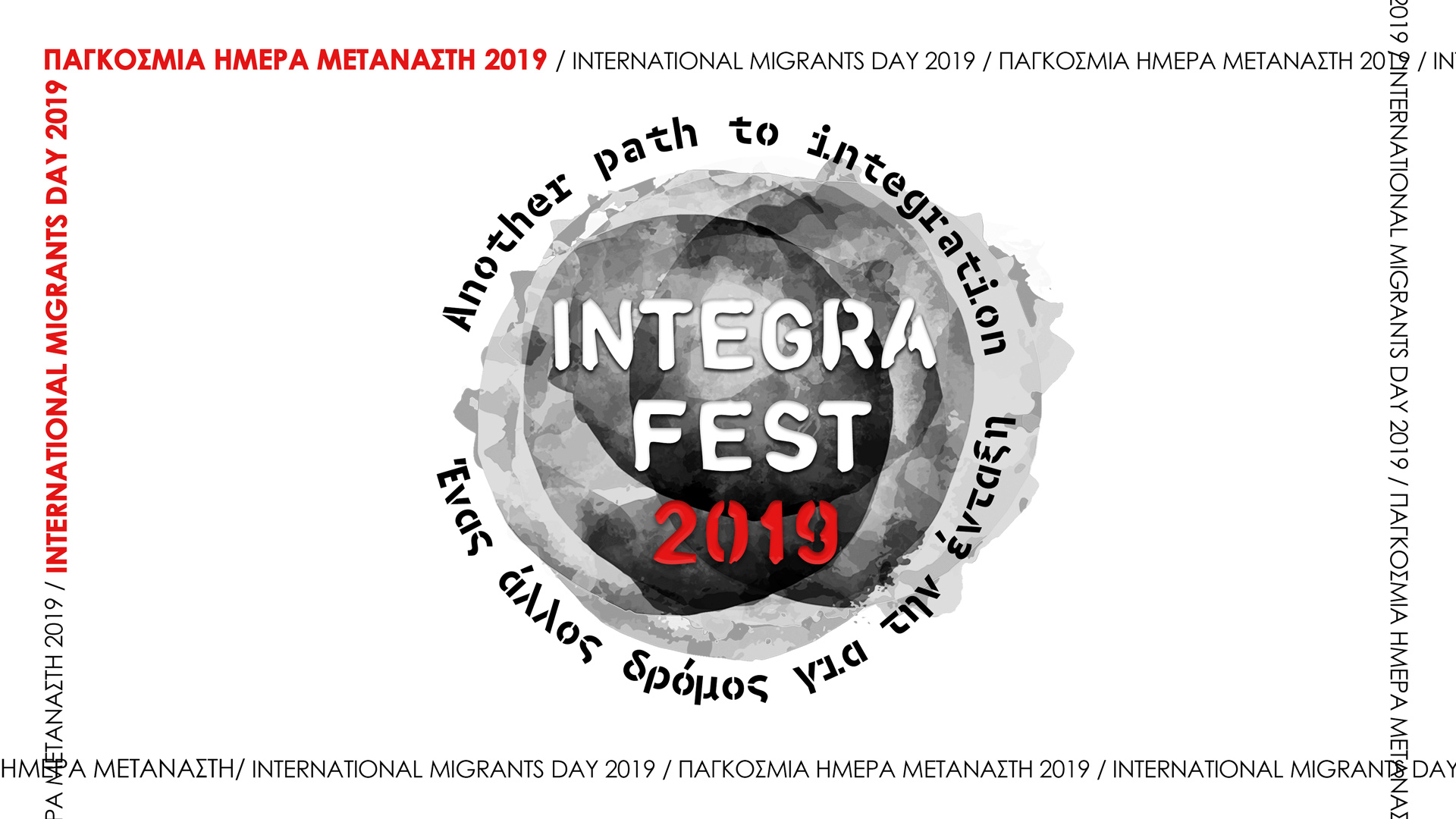 The Greek Forum of Migrants honors the International Migrant's Day 2019 with this year's events of INTEGRA FEST 2019:
On the International Migrant's Day - #IMD2019, the issues of migrants will be at the forefront of attention, with the discussion:
Migration: A problem of management or lack of an integration plan?

on Wednesday 18th of December at 6.15 p.m.,
in the auditorium "ANTONIS TRITSIS",
at the Cultural Center of the Municipality of Athens, Akadimias 50
The issue of migration, in the year 2019, is back in the forefront, mainly as a problem of management. Once again, we migrants are witnessing the absence of an integration plan and the absence of development and implementation of a meaningful migration policy. The implementation of the laws is required, as well as the development of a plan of social integration, on the basis of humanitarian policy-making and equal citizenship. Only this way, we can ensure both the human rights of every man, woman and child who cross the borders seeking a better future and the social cohesion of the Greek society.
The invited speakers will share with us their last years' experience on integration issues for migrants and refugees in Greece, and an open discussion with the public will follow.

In the discussion, they are participating:
Patroclos Georgiadis, Secretary General for Migration Policy, Reception and Asylum
Miltiadis Klapas, Chemist, Secretary General of the Municipality of Saronikos, Former Secretary General of Migration Policy, Former Mayor of Preveza
Vassilis Papadopoulos, Lawyer, President of the Board of Greek Council of Refugees, Former Secretary General for Migration Policy
With video recording:
Andreas Takis, Assistant Professor at the Law School of the Aristotle University of Thessaloniki, former Ombudsman for Human Rights and former Secretary General of Population and Social Cohesion.
Facilitating:
Dimitris Christopoulos, Professor at Panteion University, Honorary President of the International Federation for Human Rights.
The discussion will be held in Greek language.
Organized by The Greek Forum of Migrants
With the support of OPANDA City of Athens
----------------------------
For a second year in a row, within the framework of INTEGRA FEST 2019, the Greek Forum of Migrants organizes meetings between Greek organizations and migrant communities, entitled "A Visit Brings Us Together".
Μigrants and Greek citizens, through these meetings, will get to know each other and exchange their experiences, thereby promoting mutual respect, understanding and social cohesion.
This year, the migrant communities participating are:
Afghan Migrants & Refugees Community in Greece
Ethiopian Socio-Cultural Center "Aithiops"
Georgian Cultural Center "Caucasus"
Ghanian Community in Greece
Kenyan Community in Greece - KCG
Ukrainian Community "The land of stork"
Association of Senegalese of Athens
Tanzanian Community in Greece
and they will meet with the greek organisations:
ARSIS
Connect Athens
Danish Refugees Council
Διοτίμα - Diotima
Hellenic Youth Participation
HIGGS
InterAlia
Praksis
Velos Youth
Viktoria Square Project
We Need Books
Zataar - Project Layali