No more slaves again in Africa - Demonstration 2/12/2017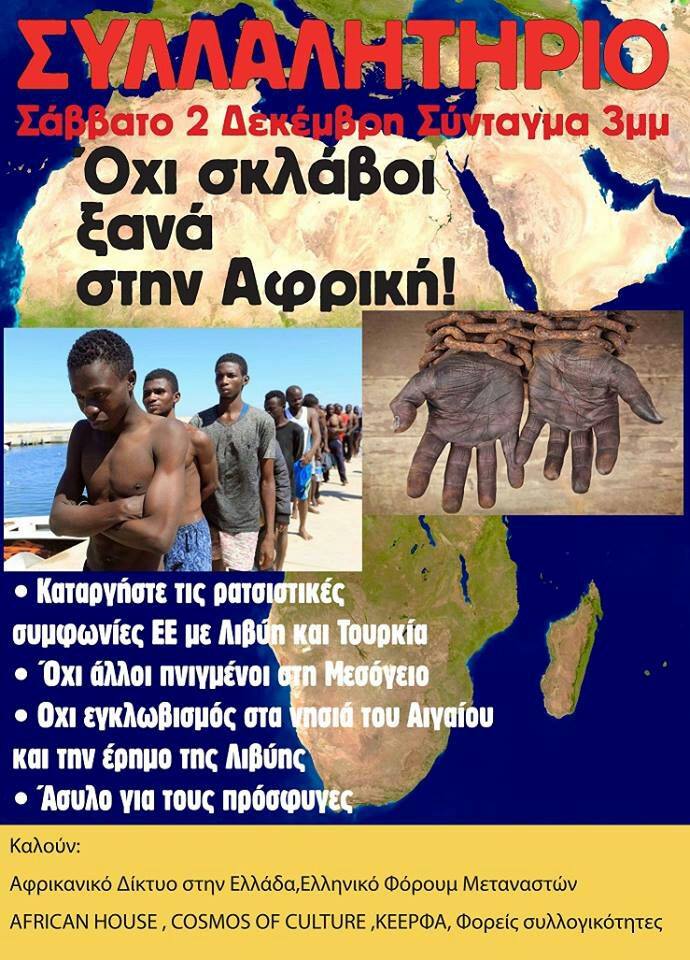 The African Network in Greece and GFM, we CALL all the citizens of Athens to demonstrate and protest, marching to the European Commission offices and Italian Embassy. Come with us to protest against the crimes continued in Libya - let's shout together NO MORE SLAVES AGAIN in AFRICA
DEMONSTRATION - PROTEST MARCH
Saturday, 2 December 2017
SYNTAGMA sq., 3 p.m.
Protest Announcement
The latest reportage of CNN correspondent Nima Elbagir, depicting the dramatic scenes of a slave auction near the city of Tripoli, shocked, angered and outraged the European public opinion about the reality of migrants stuck in Libyan territory.
We as the African Network in Greece and as the Greek Forum of Migrants strongly condemn the horrible violations of human rights that African migrants suffer in Libya.
More than 20,000 Africans, including women and children, have been arrested and are now in detention under extremely poor conditions.
The inhumane condition of African migrants who ended up in Libya, trying to reach the southern border of Italy, is just one of the results of the European Union's irresponsible migration policy, and its members, particularly Italy.
Libya since 2000, represents a strategic partner in the EU`s borders migration control through the Frontex agency, and Italy has regularly signed cooperation agreements with Libyan authorities in order to push back migrants.
The last agreement between Italy and Libya has been signed in 02.02.2017, less than one year ago.
EU and Italy have active relations with Libyan authorities, ignoring the strong evidence of violation of human rights in the country. The European Court has already reported Italy for Human Rights violations in 2005 and 2009, concerning its cooperation on migration policy with the North African country.
We as the African Network in Greece and as the Greek Forum of Migrants demand: From the European and Italian authorities, the African Union and the United Nations:
to act immediately and take measures in stopping the barbaric and inhumane treatment of the migrants in Libya;
to bring the perpetrators of these atrocities to justice;
to stop the slave auction in Libya, ensuring the restoration of human rights for the victims and supporting their evacuation to a safe country;
To dismantle all the concentration - detention camps for migrants in Libya;
From the EU authorities and the State members, we demand:
to interrupt the cooperation, to manage migration and borders, with Libya and
to investigate about the relation with local militia.
We welcome France`s decision to invite the UN Security Council to discuss the slave trade in Libya and we agree with the UN general secretary`s statement:
"...the only solution to protect migrants and to fight smugglers is to open legal migration routes."
AFRICAN NETWORK IN GREECE: (Association of Cameroonian of Greece, Association of Senegalese of Athens, Burkina Faso Community in Greece, Cote d`Ivoire Community in Greece, Community of Somalia, Community of Burundi in Greece, Community of Congolese in Greece, Ethiopian Socio-Cultural centre Aithiops, Ghana National Association in Greece, Hellenic Sudanese Friendship League, Kenyan Community of Greece, Nigerian Community of Greece, Organization of United African Women, Sudanese Community, Tanzanian Community Greece, Union of Sierra Leonean in Greece, Union of Guinean of Greece, Watoto Africa, Zanzibar Association in Greece)​​
GREEK FORUM OF MIGRANTS, Migrant.gr
Supporters: AFRICAN HOUSE, Cosmos of Culture, ΚΕΕΡΦΑ, Generation 2.0, more Organizations and Communities