Send a message against Discrimination - WAD2020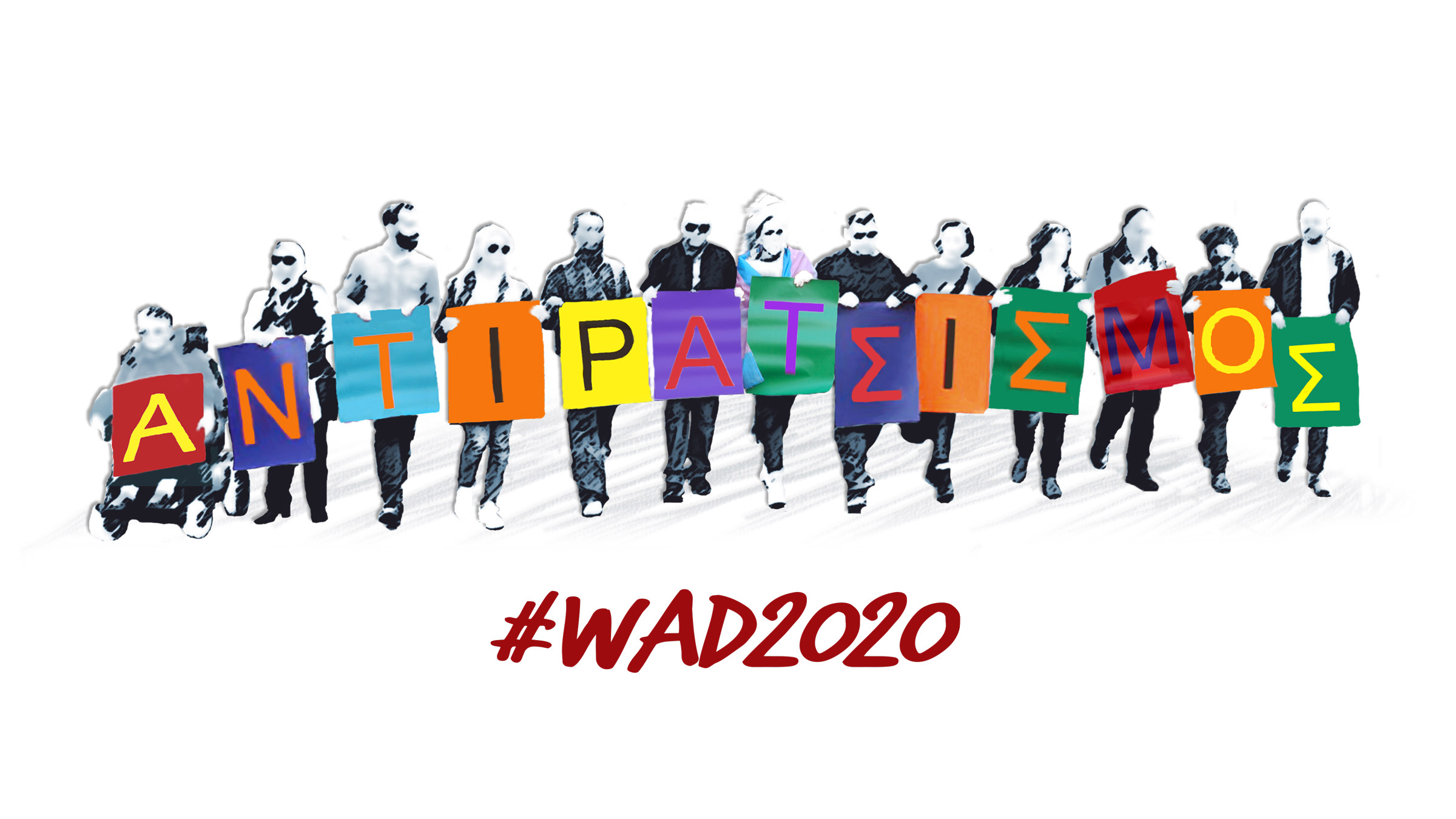 Read below the Press Release of the 6th Walk Against Discrimination - WAD2020, from home:
SEND A MESSAGE AGAINST DISCRIMINATION
INTERNATIONAL DAY AGAINST RACISM
Saturday, 21 March 2020
YES to home, NO to racism!
The International Day against Racism (International Day for the Elimination of Racial Discrimination), on Saturday, 21st of March, the Greek Forum of Migrants, for a 6th year in a row, is calling for all groups that are currently being discriminated and affected by racism to raise their voices and to declare their determination to fight all kinds of racism and humiliation of human dignity.
We unite our voices, representatives from wider groups affected by discrimination and racism (PWD, LGBTQI, Roma, Migrants, Refugees, HIV positive, Elderly, Drug addicts, Mentally ill, Religion minorities, etc.), and united we send our message by posting to the online FB event of the Walk Against Discrimination #WAD2020, together for a better world.
Through Social Media, every day until the 21st of March, we leave our personal or collective message, as an organisation of Civil Society that supports the #WAD2020, against racism and discrimination.

The closure of the WAD 2020, as every year, is happening with the Award Ceremony of Antiracism - Tzanetos Antypas 2019 award to an organization or a person for its contribution to the dealing with the issues of anti-racism and human rights. This year, the Organizing Committee of the WAD2020 decided the award to be given by the Golden Dawn Watch to the Union of Press Photographers Greece - EFE, for their contribution and support to vulnerable social groups, by their everyday work, opposing fascism, racist violence and promoting human dignity, sometimes by putting their own lives in danger. The award ceremony is temporarily postponed.
The award was established in 2017 in the memory of the activist and founder of PRAKSIS organization, Tzanetos Antypas, where each year an organization or a person working on issues of anti-racism and human rights is awarded.
Follow the FB event here, and leave your message as a contribution to our cause:

The Organizing Committee of the WAD2020 is consisted by:
- Racist Violence Recording Network (RVRN)
- Greek Forum of Migrants (Union of 40 Migrant Communities)
- Hellenic League for Human Rights (HLHR)
- PRAKSIS
- Transgender Association in Greece
- HumanRights360o
The WAD2020 is supported by european networks: UNITED for Intercultural Action, ENAR European Network Against Discrimination, European LGBT Police Association, and organizations/communities of the Civil Society in Greece, active on the human rights:

50και ΕΛΛΑΣ - Fifty Plus Hellas
Ανεμος Ανανέωσης - Wind of Renewal
ΑΝΤΙΓΟΝΗ - Information and Documentation Center on Racism, Ecology, Peace and Non Violence - ANTIGONE
ARSIS - Social organization for the support of youth
Αfrican Network in Greece - ANG
BABEL DC - Mental health unit for migrants
Γιατροί του Κόσμου - Medecins du Monde
Διεθνής Αμνηστία - Amnesty International
Δίκτυο για τα δικαιώματα του Παιδιού, DDP Network for Children Rights
Network of Recording Racist Violence - RVRN
Network of Users of Psychoactive Substances
Network of cooperation for Migrant Women "Dimitra"
Police Action for human rights
Natioanal Committee for Human Rights - EEDA
Hellenic League for the Human Rights - ElEDAP
Greek Council for Refugees
Greek Forum of Migrants (Association of Cameroonians of Greece, Congolese Community in Greece, Ethiopian Socio-Cultural Center "Aithiops", Ghanian Community in Greece, Union of Guinea of Greece, Kenyan Community in Greece (KCG), Union of Madagascar, Nigerian Women Organisation of Greece, Nigerian Community of Greece, Association of Senegalese of Athens, Unione of Sierra Leonese, Tanzanian Community in Greece, Zanzibar Association in Greece, African Network in Greece, United African Women Organization Greece, Afghan Migrants & Refugees Community in Greece, Bangladeshi Community of Greece, Greek Indian Cultural Company, Greek Pakistan Association of Greece, Federation of Albanian Communities in Greece, Georgian Cultural Center "Caucasus", Greek Georgian Union "Dioskouria", Hellenic Moldovans Association «ΟΡΦΕΥ», Association of Russian speaker and friends of Russia of the Municipality of Trikala, Ukrainian Community `The land of stork`, United Ukraine Union, Egyptian Community in Greece "El Rapta", Association of Moroccans in Greece, Palestinian Workers Union in Greece, Somalian Community in Greece, Greek Soudanese Frienship League, Sudanese Community, Association of Free Expats of Syria, Syrian House in Greece, Arab Association in Ambelokipi - Athens, Migrant Women Network "Dimitra", Zagel Refugee Group, LGBT Refugee Group)
Greek Forum of Refugees
Albanian Women Union in Greece
Union of Press Photographers Greece - EFE
Positive Voice
Κέντρο Συμπαραστάσεως Παλιννοστούντων και Μεταναστών – Οικουμενικό Πρόγραμμα Προσφύγων
Kosmos xoris polemous kai via
Melissa network - Migrant's Women Network in Greece
METAdrasis
NGO Arogi
OLKE - Lesbian & Gay Community of Greece
Olympic Truce
Federation of Albanian Communities in Greece
Organization EARTH
United African Women Organization Greece
Nigerian Women Association
Integration Council of Migrants - City of Athens
Ηelpa-Prometheus
Transgender Association in Greece - SYD
Technodromo
Athens Pride
Colour Youth - Κοινότητα LGBTQ Νέων Αθήνας
Cosmos of Culture
ELIX - Conservation Volunteers Greece
ENAR European Network Against Discrimination
Equal Society-Κοινωνία Ίσων Ευκαιριών
European LGBT Police Association - Ευρωπαϊκή Ένωση ΛΟΑΔ Αστυνομικών
Generation 2.0 for Rights, Equality & Diversity
Greek Antipoverty Network
Greek Housing Network
GOLDEN DAWN WATCH
Hestia FC
Hope Refugee FC
HumanRights360o
HYP - Hellenic Youth Participation
Inter alia Project - Civic Society Meeting Point
Justice for Zak/Zackie
KMOP Family and Childcare Centre
LGBTQI+ Employment Support Group
PRAKSIS
Proud Seniors Greece
PROUD LIFE - LGBTQI+
RAINBOW FAMILIES - Οικογένειες Ουράνιο Τόξο
Red Umbrella Athens
Service Civil International Hellas SCI Hellas
Solidarity ΝΟW
UNITED for Intercultural Action / United Against Racism

Read more about the Walk against Discrimination 2019