New measures for Covid-19 in 9 languages - Nov 2020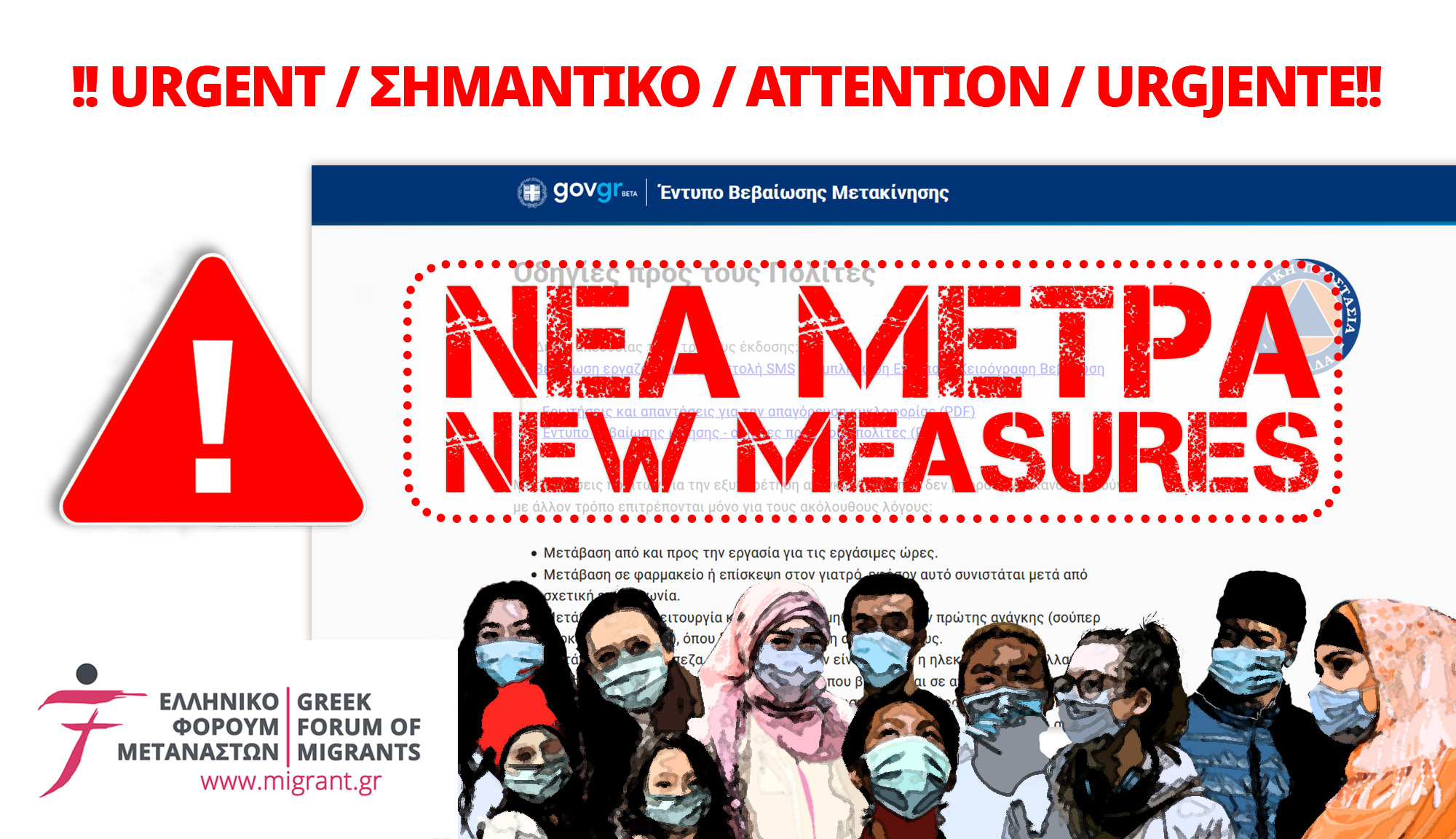 Read below in 9 languages the new measures for the second lockdown / quarantine in Greece starting Saturday 07/11/2020:
ΝΕΑ ΜΕΤΡΑ κατά του κορονοϊού σε ισχύ από τις 6 πμ του Σαββάτου 07/11/2020 διάρκειας 3 εβδομάδων.
Μετακινήσεις μέσω SMS στο 13033,
Απαγόρευση κυκλοφορίας από τις 9μμ έως 5πμ [εξαίρεση για λόγους υγείας, εργασίας και βόλτα κατοικίδιου]
Οι λειτουργίες στις εκκλησίες θα γίνονται χωρίς την παρουσία πιστών,
ΚΛΕΙΝΟΥΝ μαγαζιά λιανεμπόριο και κομμωτήρια, όλα τα ΓΥΜΝΑΣΙΑ και τα ΛΥΚΕΙΑ όπου θα γίνεται τηλε-εκπαίδευση
ΑΝΟΙΧΤΑ σούπερ μάρκετ, τα φαρμακεία και οι φούρνοι. Τα νηπιαγωγεία και τα δημοτικά σχολεία θα παραμείνουν ανοικτά, όπως και τα ειδικά σχολεία.
Παράλληλα προανήγγειλε τρία πρόσθετα μέτρα στήριξης:
Όσοι εργαζόμενοι έχουν τεθεί σε καθεστώς αναστολής για τον Νοέμβριο θα λάβουν ενίσχυση 800 ευρώ, πέραν του δώρου.
Επεκτείνονται κατά δύο μήνες όλα τα επιδόματα ανεργίας που έληγαν από τον Σεπτέμβριο μέχρι τον Νοέμβριο.
Εφάπαξ οικονομική ενίσχυση 400 ευρώ για τους μη επιδοτούμενους μακροχρόνια ανέργους.
Περισσότερα για ενημερώσεις από Πολιτική Προστασία εδώ: https://forma.gov.gr/
---
NEW MEASURES for covid-19 in effect from 6am on Saturday 07/11/2020 with 3 weeks duration. ️ ️
Transfers via SMS to 13033,
traffic ban from 9pm to 5am [except reasons of health, work and dog walk]
services in churches will be performed without the presence of believers,
CLOSED: retail shops and coiffures-hairdressera, all HIGH SCHOOLS (Gymnasium and Lykeio) where e-education will take place
OPEN: supermarkets, pharmacies and bakeries. Kindergartens and primary schools will remain open, as will special schools.
Three more supportive measures:
- Any worker is in suspension by November will get an allowance of 800 euro
- unemployment allowances are suspended by two months for those expiring from September till November
- Allowance once, of 400 euro for the longterm unemployed
Read more about SMS and forms here https://forma.gov.gr/
---
MASA TE REJA kundër koronavirusit hyjne në fuqi nga ora 6 e mëngjesit të së Shtunës 07/11/2020 dhe do zgjasin 3 javë.
Lëvizje me SMS në numrin 13033,

Ndalimi i levizjes nga ora 9 deri në 5 të mëngjesit,

Shërbesat në kisha do të kryhen pa praninë e besimtarëve,

MBULLEN dyqanet ,me pakicë dhe parukerit, të gjitha Shkollat nga klasa e 5-9 dhe Shkollat e Mesme, ku do të zhvillohet mësimi në distancë

HAPUR janë supermarkete, farmaci dhe furrat e bukës. Kopshtet dhe shkollat fillore do të qëndrojnë të hapura, ashtu si edhe shkollat speciale.
Në të njëjtën kohë, njoftohën tre masa shtes mbështetëse:
Ata punonjës që janë pezulluar për nëntorin do të marrin një ndihmë prej 800 eurosh, përveç pageses se 13.
Te gjitha përfitimet e papunësisë që skaduan nga shtatori në nëntor zgjaten me dy muaj.
Ndihmë financiare e njëhershme prej 400 euro për të papunët afatgjatë të pa subvencionuar. Për më shumë perditesime nga Mbrojtja Civile shikoni këtu
---

اجراءات جديدة من الساعة 6 صباحاً يوم السبت 07/ 11/ 2020 وتستمر 3 أسابيع.
- التنقّل برسالة نصية إلى 13033.
- حظر التجوّل من الساعة 9 مساءً حتى الساعة 5 صباحاً
- ستؤدى الشعائر الدينية في اماكن العبادة بدون حضور المصلّين.
- إغلاق متاجر البيع بالتجزئة ومصففي الشعر، وجميع المدارس الثانوية والمتوسطة ويتم التدريس عغبر الانترنت. - محلات السوبر ماركت والصيدليات والمخابز ستبقى مفتوحة. رياض الأطفال، والمدارس الابتدائية ستبقى ايضا مفتوحة وكذلك مدارس ذوي الاحتياجات الخاصة.
ثلاثة إجراءات دعم إضافية:
• العاملون الذين سيتأثرون باغلاق اماكن عملهم لشهر نوفمبر سيحصلون على منحة قدرها 800 يورو بالإضافة إلى منحة الهدية. • تم تمديد جميع إعانات البطالة التي انتهت من سبتمبر إلى نوفمبر لمدة شهرين.
• معونة مالية لمرة واحدة بقيمة 400 يورو للعاطلين عن العمل طويل الأمد وغير المدعومين.
---
محدودیت های جدید از روز شنبه تاریخ ۰۷/۱۱/۲۰۲۰ و ساعت ۶:۰۰ صبح و به مدت سه هفته
- تردد کردن فقط با ارسال پیام به شماره ۱۳۰۳۳
- ممنوعیت تردد از ساعت ۲۱:۰۰ شب تا ساعت ۵:۰۰ صبح روز بعد
- کلیساها کار می کنند ولی بدون حضور مردم
- بسته می مانند: دکان ها، خرده فروشی ها، ارایشگاهها، مکتبهای راهنمایی و دبیرستان (لیسه) و آموزش از راه دور و آنلاین خواهد بود.
- باز می مانند: سوپرمارکتها، داروخانه ها، نانوایی ها. مهدی کودک ها و مدارس ابتدایی و همچنین مدارس خاص. باز می باشند. همزمان ، این سه اقدام پشتیبانی اضافی را اعلام کرد: ۰ آن دسته از کارکنانی که برای ماه نوامبر کارشان به تعلیق افتاده، علاوه بر هدیه سالانه ، ۸۰۰ یورو کمک هزینه نیز دریافت می کنند. ۰ کلیه مزایای بیکاری که از ماه سپتامبر تا ماه نوامبر منقضی شده است ، با اضافه دو ماه تمدید می شود. . کمک مالی یک باره ۴۰۰ یورویی برای بیکاران بلند مدت کمک خرجی شان.
---
ახალი ზომები
შაბათს 07/11/2020 დილის 6 საათიდან 3 კვირის განმავლობაში შედის ძალაში.
გადაადგილება შესაძლებელია მხოლოდ სმს-ის მეშვეობით 13033.

შეზღუდულია გადააგდილება საღამოს 9 საათიდან დილის 5 საათამდე,

წირვა-ლოცვა ეკლესიაში ჩატარდება მრევლის დაუსწრებლად,

იკეტება მაღაზიები და სილამაზის სალონები, საბაზო განათლება (ΓΥΜΝΑΣΙΑ) და ლიცეუმი (ΛΥΚΕΙΑ) გადადიან ელექტრონულ სწავლებაზე.

ჩვეულ რეჟიმში მუშაობას აგრძელებენ სუპერ მარკეტები, აფთიაქები და საცხობები. მოსამზადებელი კლასი (νηπιαγωγεία), დაწყებითი სკოლა (δημοτικά σχολεία) და სპეციალური სკოლები ჩვეულ რეჟიმში აგრძელებენ სწავლებას.
გამოცხადდა მხარდაჭერის ზომები:

ის თანამშრომლები, რომლებმაც მუშაობა შეწყვიტეს ნოემბრის თვეში მეცამეტე ხელფასთან ერთად დაერიცხებათ 800 ევრო.

ყველა სახელმწიფო დახმარება, რომელსაც ვადა გაუვიდა სექტემბრის ან ნოემრბის თვეში გადავადდა ორი თვით.

ერთჯერად ფინანსურ დახმარებას, 400 ევროს სახით მიიღებს ყველა გრძელვადიან უმუშევარი.
---
НОВІ ЗАХОДИ вступають в силу від 06:00 год. ранку суботи, 07/11/2020 і триватимуть 3 тижні.
ДО СПИСКУ ЗАХОДІВ ВКЛЮЧЕНІ:
- Дозвіл на пересування громадян через відправку SMS по номеру 13033,
- Загальна заборона руху для всіх громадян з 21:00 до 5:00 ранку,
- Богослужіння у церквах відбуватимуться без присутності віруючих,
- Роздрібні магазини та салони краси будуть закриті на весь час карантину, всі школи та ліцеї
переходять на дистанційне навчання
- Відкритими залишаються всі супермаркети, аптеки та пекарні. Дитячі садки та початкові школи
залишаються відкритими, як і спеціальні школи.
Водночас прем`єр-міністр оголосив три додаткові заходи щодо програми економічної підтримки
населення:
1. Ті співробітники, які у листопаді будуть відсторонені від роботи, отримають допомогу
розмірі 800 євро без врахування доплати перед Різдвяними святами.
2. Усі виплати по безробіттю, термін дії яких закінчився з вересня по листопад,
продовжуються додатково ще на два місяці.
3. Одноразова фінансова допомога у розмірі 400 євро для довготривалих безробітних, які не
субсидуються на даний момент державою.
---
NOUVELLES MESURES ️ pour covid-19 à partir de 6h le samedi 07/11/2020 avec une durée de 3 semaines.
Transferts par SMS au 13033,
interdiction de circuler de 21h à 5h,
les offices dans les églises seront accomplis sans la présence des croyants,
OS FERMÉ: magasins de détail et coiffures-coiffeurs, tous les lycées (Gymnase et Lykeio) où aura lieu la e-éducation
EN OPEN: supermarchés, pharmacies et boulangeries. Les jardins d`enfants et les écoles primaires resteront ouverts, tout comme les écoles spéciales.
Dans le même temps, il a annoncé trois mesures de soutien supplémentaires:
Les salariés qui ont été suspendus pour novembre recevront une bourse de 800 euros, en plus du cadeau.
Toutes les allocations de chômage expirées de septembre à novembre sont prolongées de deux mois.
Aide financière ponctuelle de 400 euros pour les chômeurs de longue durée non subventionnés.
---
ከቅዳሜ November 7 ከጠዋቱ 6፡00am ጀምሮ ለ3 ሶስት ሳምንታት የወጣው መመሪያ
ከቦታ ቦታ ለመዘዋወር ሜሴጅ Sms ወደ 13033 መላክ ያስፈልጋል
ማንኛውም ሰው አስፈላጊ ካልሆነ ከምሽቱ 9፡00pm እስከ 5፡00am መዘዋወር ክልክል ነው
ሁሉም ሱቆች ከሱፐር ማርኬት፡ፋርማሲ፡ዳቦ ቤት፡ስልክ፡ቤት፡take away፡delivery ፡ቤኒዚን ማደያ በስተቀር ዝግ ነው
ዕፃናት መዋያ እና ከ6ኛ ክፍል በታች ብቻ ነዉ ትምህርት ያላቸው
ቤተ ክርስቲያን ያለ ምእመናን አገልግሎት ይሰጣል
የገንዘብ እርዳታ
ሱቃቸው ለተዘጋባቸዉ ሰራተኞች 800€
400€ እርዳታ ለብዙ ወራቶች ስራ አጥ oaed ለተመዘገቡ
September, October, November የስራ አጥ ድጐማ የጨረሱ ሌላ 2 ሁለት ወር ይጨመርላቸዋል