New apointments of the PERMITS for exceptional reasons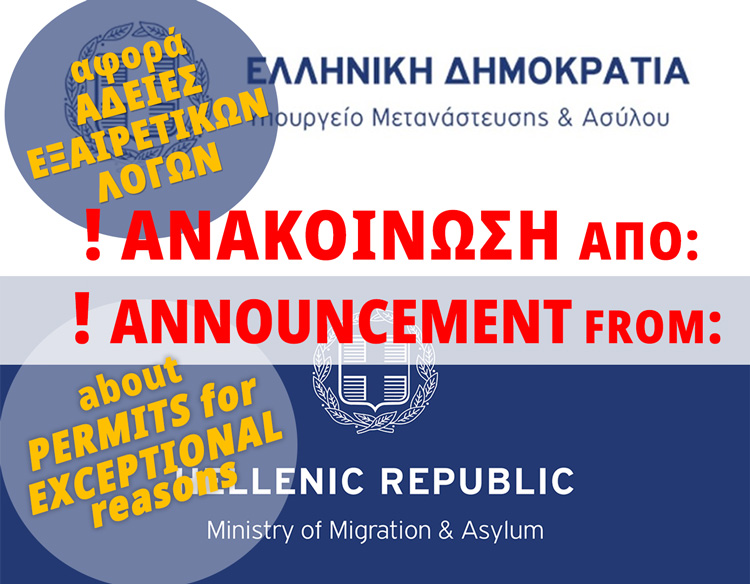 Read below the translated announcement published by the Decentralized Administration of Attica, regarding the new procedure of appointment requests of the residence permits for exceptional reasons.
Common Announcement from the Decentralized Administration of Attica - DAM Services regarding residence permits for exceptional reasons.
According to a recent document of the Ministry of Migration & Asylum, we are waiting for the electronic application that will allow the submission of requests without the need to attend the Services (electronic submission). As due to covid19 pandemic, the appointments and applications of this category were canceled, the Decentralized Administration of Attica - DAM will start accepting appointment requests as follows:
Beneficiaries will send appointment requests to the respective DAM of their place of residence (see table below) by attaching and sending the SPECIAL FORM FULLY completed to the respective e-mail address.
SERVICE

E-MAIL
(only for exceptional reasons permits appointments)

DAM Athens

dam_a_ekser@attica.gr

DAM Central and Western Attica

damb_seveny@attica.gr

DAM Northern & Eastern Attica

pallini.exairetikoi@attica.gr

DAM Southern Attica, Piraeus and Islands

exeret-dampirea@attica.gr
Each email should contain ONLY ONE (1) request for appointment and therefore the form of ONE (1) beneficiary. (In case of multiple requests per email, only the FIRST will be answered and the rest will not be accepted.)

Appointments are set by electronic means. Sending multiple messages to more than one DAM email address will not result in multiple appointments being set.

Order of priority will be kept. Sending a request to another e-mail address of the respective DAM Service is not a valid appointment request and will not be taken into account.

The above e-mail addresses will not answer any other request, except the appointment request for residence permits for exceptional reasons.

Taking into account the experience of managing appointments so far by these Services and the ongoing crisis of the pandemic that may cause unexpected changes and mainly differentiation of the possibility of DAM Attica serving the public, the messages sent by beneficiaries will be answered gradually and the scheduling of appointments will not exceed time period of 2 weeks. According to the document of the Ministry of Migration & Asylum, this procedure will be applied until the implementation of the electronic platform.

Failure to attend a scheduled appointment means that the person concerned should send a new request email in order to schedule a new appointment.
Being fully aware that there is a large number of beneficiaries, we appeal to all interested parties and/or their representative lawyers to make good use of this procedure of sending e-mail and to comply with our INSTRUCTIONS aimed at faster and more complete service to citizens.
Please follow the announcements in greek language from the webpage of DAM Attica, it is updated regularly.
Decentralized Administration of Attica - 21/1/2021
---